At EBNDS we offer students an outstanding values-based education that develops their sense of responsibility to their community and their capacity to shape their society. Every day in our classrooms and hallways we live out our combined mission of academic excellence together with the values of respect, openness and compassion on which Sion was founded.
Discover how our academic goals, bilingual program, and celebration of diversity combine to support our values. Every aspect of our program is delivered in a way that combines the best in innovation with the benefits of a warm, safe, and nurturing environment. Our school is a small community of 320 students where each one receives support and personal attention for values to take root.
What Sets Us Apart

EBNDS stands alone with a unique combination of academic excellence, unrivalled bilingual programming, and genuinely caring environment that celebrates more than just high academic standards. Not only do our students acquire an exceptional academic base for entry into Montreal's top French and English high schools, they develop a lifelong appreciation for the values of respect, interdependence and diversity for a changing world.
Preparing students for excellence
in academics and beyond.
Educational Goals and Values
The goals of our educational program align with our core values to:
promote respect for others
acquire mother-tongue proficiency in both English and French
foster appreciation for cultural diversity and multicultural values
promote an open mind and spirit of exploration
stimulate curiosity and creativity
develop scientific reasoning
encourage independent thinking
instill a love of learning
Our academic program is rigorously applied to ensure students build the confidence and self-esteem they need to face the challenges of today and tomorrow. Most of our students enjoy entry into their choice of high schools. We want all our students to succeed. Ask about the services available to help EBNDS students meet targeted goals and excel within our program.
Bilingual Advantage
EBNDS offers a truly bilingual program, designed not only to live out the value of openness but also to offer a superior academic base for entry into Montreal's top French and English high schools. We are one of the few elementary schools in Quebec that teaches English and French with equal rigour, for mother-tongue proficiency in both languages.
Developing the whole child
At EBNDS academic success and personal growth go hand in hand. Our program nurtures the intellectual, personal, and physical development of our students to ensure they reach their full potential at every level.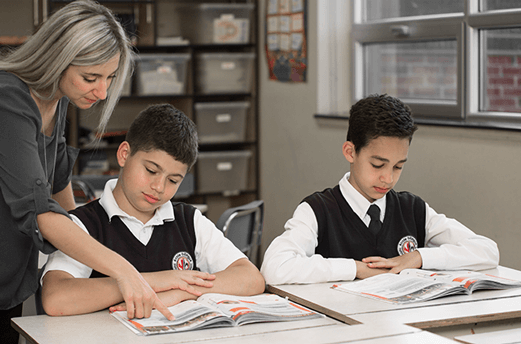 Intellectually
An academically enriched program that engages students and demands their active participation.
Socially
A learning environment that centers on personal responsibility, self-discipline, and social conscience, while living out the universal values of respect, openness, and compassion on a daily basis.
Physically
Nutritious foods and physical exercise programs aimed at instilling lifelong healthy habits and positive self-esteem.
We also offer a full array of extracurricular activities to enhance the learning and development of our students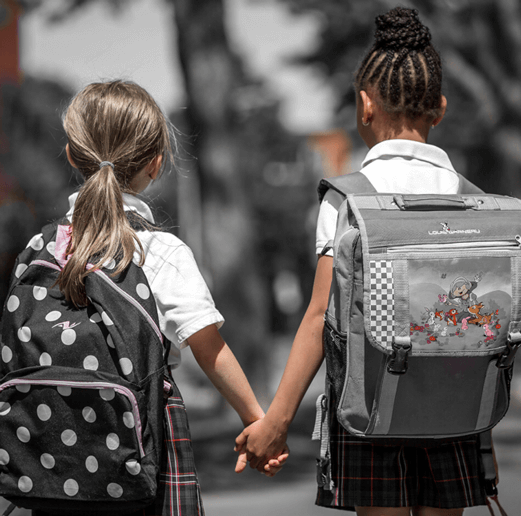 True
Bilingualism
Opening hearts and minds to
a world of possibilities.
At EBNDS French and English are taught with equal rigour, offering a truly bilingual K-6 educational program resulting in mother-tongue proficiency in both languages.
No matter where life takes them, most EBNDS students enjoy entry into Montreal's top private high schools. Our students acquire full mastery of both French and English to communicate with confidence in the high school setting of their choice and beyond.
We believe that true bilingualism goes beyond the basics of grammar and syntax. Through daily interaction with each other, their teachers, and other adults in both languages students acquire more than just the confidence to communicate with ease in French and English, they open their hearts and minds to a rich bilingual landscape for a springboard toward continued success in a world of possibilities.
Global citizens: Our cultural diversity is one of our greatest strengths.
At EBNDS and in all Sion schools around the world, a deep appreciation for multicultural values permeates every aspect of our educational program.
Our students have roots in over forty-five countries, speak more than a dozen languages along with French and English, and practice a variety of distinct religious traditions.
Thanks to the rich cultural tapestry represented within our student body and which gives shape to daily interactions, EBNDS students develop a deep appreciation for multicultural values. Our school is a microcosm that reflects Montreal's rich cultural diversity, a strength which we nurture with an aim for preparing students to thrive in the global reality of today and tomorrow.
The mission of all Sion schools is to instill in students a deep appreciation of their own faith and culture, as well as a heightened awareness of, respect for, and sensitivity to the beliefs and practices of others.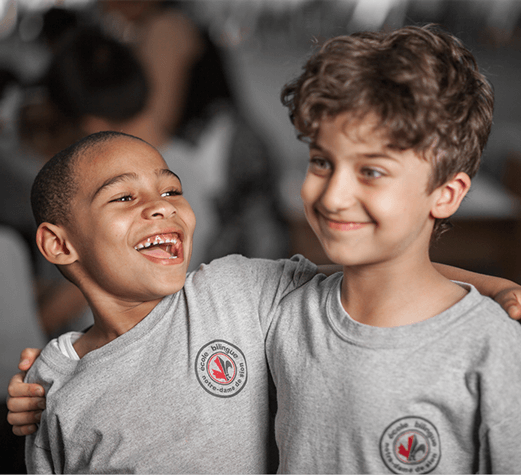 Sion schools promote the dignity and rights of each person across racial, religious, ethnic, and socio-economic differences. We live and breathe these values every day.